Christina Hendricks graces the cover of the New Yorker
If you haven't figured it out by now, I will admit that I have "une faiblesse" for magazine covers featuring artistic photos of beautiful women and surrounded by beautiful fonts and graphic design (basically a medley of nature's art and designer's art, displayed on glossy paper; you can't go wrong with that recipe).
Today I just learned about Christina Hendricks being named sexiest women by Esquire magazine. I had never heard of her before, almost didn't know anything about her show before (
Mad Men
), nor seen her before.
Here are some pictures from Esquire's coverage of Christina Hendricks, and I must say that it is a really great photo-shoot:
But then I discovered the cover of Esquire featuring that photo-shoot and I was very very disappointed; it's a horrible cover: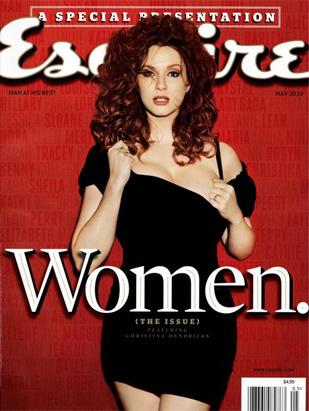 It is boring, the background is ugly and the photo is nothing special. Now compare that to the New Yorkers' cover featuring Christina Hendricks:
Now thats a real cover.
How is it, that the aging traditional and upper-class New York bourgeoisie magazine that the New Yorker is, has a better cover than the supposedly modern and hot Esquire? I guess the artists at the New Yorker are true artists, not like the people at Esquire.
Conclusion is: it's not the age that matters but the quality of the work. You can re-invent or re-invigorate yourself at any age.